Old and Gold Brunswick Heads Fundraiser
On the 11th of June 2022 we held a fundraising stall at the annual Old 'n' Gold festival in Brunswick Heads. Boxes of designer clothes, shoes and jewellery were sent to Human Nature via a generous anonymous donor in Sydney NSW. This donation was facilitated by Scott and Adele Beachley and Alethea Gold. Scott is our Board Chair while Adele and Alethea are very active Board members of our wonderful supporters SmartAid.
The staff at Human Nature had fun sorting through all the designer clothes and even purchased a few pieces for their own wardrobes, with every dollar going directly to the organisation. There was lots of work to be done behind the scenes steaming and ironing the clothes and sorting them by size and design. Some of the designers featured were Perseverance, Velvet by Graham and Spencer, Antik Batik and Summery Copenhagen.
We also had donations of clothing racks, hangers and volunteers to help us set up, sell on the day and pack down. It was a big day starting at 5:30am and going until late in the afternoon but we had so much fun meeting so many wonderful people in our community and sharing stories about the life changing work we do.
We are thrilled to announce we raised close to $2,500 at the annual Old and Gold Brunswick Heads Fundraiser! Thank you to everyone who donated their valuable time and resources and to our wonderful community who came down and supported us. You all look fabulous in your new clothes!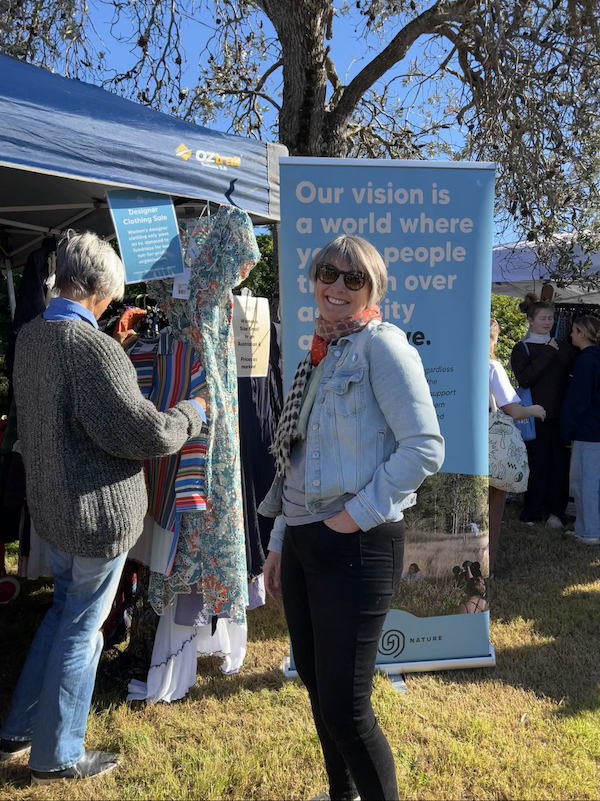 CEO Sharyn White at our Old n Gold stall