Future Generation Global Q&A with Andy Hamilton, Founder of Human Nature
Our founder Andy Hamilton recently had the pleasure of sitting down with the wonderful team at Future Generation Global to discuss Human Nature Adventure Therapy and what our organisation is all about. During the conversation, Andy shared his insights on how nature-based therapy can have a positive impact on mental health and wellbeing. Keep reading to find out more…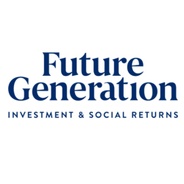 You can find out more about Future Generation Global and our partnership with them here.
FGG: Human Nature has been around for a while but may not be familiar to our shareholders. Can you give me the elevator pitch?
Andy: Human Nature is a youth mental health service with a difference. Our primary focus is around engagement – and particularly the engagement of young people who are otherwise likely to fall through the cracks. That means young people who have significant challenges in their lives and who are in need of therapeutic support, but who are unlikely – or unable – to engage in conventional clinical services. We work to engage these people by getting them into a space where they're receptive to therapeutic work and then we provide them with therapies that are most effective for them.
FGG: And that space is usually – as the name of your organisation suggests – out in nature. How important are nature and physical activity to mental health?
Andy: The idea that people feel better when they're out in nature, breathing in fresh air and doing physical activity now has mainstream acceptance.
But I do constantly have to fight the assumption that all we do is take young people out into nature to make them feel good. In truth, we're a professional mental health service, with qualified and experienced clinicians, who do their work in those contexts because that's what's most effective – both in getting young people on board, but also in getting positive mental health outcomes. I have to make that really clear, so that people don't think we are a light, fluffy version of green therapy.
One of the things I've been really firm on is that Human Nature is not nature and adventure at all costs. We look at the young people who are referred to us, who have high needs, and we ask what they need in order to engage. That might be playing chess in their backyard – or even playing chess in a dark room. If that's what it takes, that's what we'll do, whilst obviously then doing our best to extend their comfort zone into environments and activities that will improve their wellbeing.
FGG: What are the barriers that are preventing these young people from accessing – or sticking to – conventional therapy?
Andy: The barriers are many and varied. For starters, almost any parent of a teenager will tell you that they're not keen on sitting in a room with someone they've never met before to talk about their problems. So, really, conventional clinical approaches are not necessarily designed for adolescents.
Beyond that, the young people we work with have multiple barriers to engagement. Transport is a big one, particularly in regional areas. The financial barriers are massive too. Then there is the process you need to go through just to see a conventional psychologist: you've got to see a GP first, you need a mental health care plan, you need to get an appointment with a psychologist and the waitlist tends to be 6-12 months, and then you've got to get to those appointments.
Finally, a lot of the vulnerable and disengaged young people we work with haven't had great experiences in the system. They've been dragged in front of lawyers, psychologists and psychiatrists for their whole lives and they're very resistant to that conventional mode. Also, when they've had their trust violated in different ways, it takes time to rebuild it. Expecting them to go straight into a clinical setting, without giving them the opportunity to get to know the therapist and build alliances, is a big ask. We like to think that we work at the pace of trust – taking the time to build the kind of relationship required for vulnerability and effective therapeutic work.
FGG: So are you saying we need to rethink conventional therapy for that whole age bracket?
Andy: I would say so. When you're at the coalface, it's easy to identify those young people who are heading for a metaphorical cliff edge. As any school principal or service provider will tell you, you can throw everything available at them, but nothing's working. The kids aren't engaging with anything. So you watch them on this long walk to the cliff edge – and then they fall off and things end up in even more of a mess for them. It's only then that the "bottom of the cliff" services kick in: things like juvenile detention, a psych inpatient unit or drug and alcohol rehab. So at one end of the spectrum you have services that aren't enough, aren't accessible, or aren't effectively engaging at-risk young people – and at the other, crisis responses that are often too late. We need to be stopping them from going off that cliff in the first place!
FGG: Is the sector pushing for changes to the conventional therapy model?
Andy: The conversation has certainly been happening. When we talk about the work we do, everyone says, "Oh, that makes so much sense." Again, any parent of teenagers will tell you that the best conversations happen not when they sit down and say, "OK, now we're going to talk about things", but when they're in the car driving somewhere or walking alongside each other. Those are the kinds of scenarios where you get the best engagement from young people – and I think people intuitively get that.
On a more macro, national level, there are people like Pat McGorry, who had the vision to create more specialised youth mental health services in the form of Headspace. The Headspace buildings are funkier and it's a far more user-friendly and youth focused experience. This is great for the young people who will actually access the model. But, at the end of the day, it still involves going into a building and seeing a psychologist in a room, and the services are only designed for a low-to-medium intensity of need. So there is still a huge "missing middle" who won't engage with that type of therapy – and they are still heading for that cliff edge at increasing rates.
FGG: So how do we reach this "missing middle"?
Andy: The intensity of need is one of our key focuses. The kids we work with tend to have really complex trauma and severe attachment wounding. A point of difference at Human Nature is that, rather than your conventional ten 50 minute Medicare sessions a year, we work with young people as often as needed. That might be 2-3 hours weekly for 6-12 months. We also provide a lot of wraparound support: we're ringing their school to ask how they're doing and offering strategies of support, talking to their parents, going with them to resolve an issue with their employer when they're about to lose their job, engaging them in positive prosocial activities or helping them get into TAFE. That wraparound support is one of the biggest contributors to good mental health outcomes, and they often don't get that support from their families or communities.
FGG: Why can't they get that support from their families?
Andy: Many families face multiple levels of disadvantage – not only the immediate harsh realities of socio economic obstacles, but also the compounded weight of intergenerational trauma. Beyond that, there's a pretty good argument to suggest there's been a breakdown in the fabric of the traditional community. The whole "it takes a village to raise a child" model has broken down and you no longer have multiple generations living close to each other and looking out for each other. That's a much bigger societal question.
But even on the micro level of the nuclear family, there are so many more demands on parents today than there were previously. You may have two working parents and they are under enormous pressure to get the bills paid. So we work with young people from low socio economic backgrounds, who have big social problems within their families and community networks, but also with the children of high functioning parents who are at a loss as to how to help their child when everything else has failed..
Looking at the bigger picture as to why there's been such an increase in mental health issues, I think technology and climate change are both playing a huge role. We're not talking about that enough. Pretty much every young person, when you ask them how they feel about climate change, will say they don't believe the planet will be habitable in 10-20 years. What does that do to the way they approach life?
FGG: It's been 15 years since you co-founded the first Human Nature-style programme. So how did that come about?
Andy: I came out of my psychology degree, and initially did outreach-style work with people with mental health challenges. So, I guess, really early on in my career, I was working unconventionally. I found very quickly that taking clients to the nearest green space was a really effective way of working with them. They just relaxed and it was much better for engagement and the quality of therapeutic work.
I then moved through a bunch of jobs in mental health, drug and alcohol and justice, and I noticed that the most vulnerable young people were often falling through the cracks. They weren't engaging with the services they needed. And they were the ones who tended to end up with the most tragic outcomes. Helping them became a real passion for me.
Around 15 years ago, I was working at the Buttery, a well-respected drug and alcohol rehab organisation and their funding stipulated that they needed to find innovative ways to engage "disengaged" young people. I've always had a passion for nature and nature-based adventure, and so I teamed up with Graham Pringle, who was managing an outdoor education centre, to create a program that combined the best aspects of outdoor experiential learning with therapeutic practice. We operated these programs for seven years with grassroots partnerships, bits and pieces of funding and lots of volunteering, before finally managing to get some seed funding to set up Human Nature as a stand-alone mental health charity.
Human Nature essentially operates very intensive interventions. With conventional therapy, you can have a great therapy session that gives a kid a lot of insight and a clear plan, and then they walk out the door and have a fight in the car with mum or dad – and they're back to square one.
The Human Nature approach is to create opportunities for more consistent and intensive connection with real world, real time processing and learning . By having these more intensive interventions, you can work with the young people to integrate therapeutic techniques and positive changes into their lives. What we've found with the camp programs is that the therapeutic alliance you can form with these kids is equivalent to 6-12 months of therapy because of the trust you build. You're walking alongside them, getting to know each other, cooking food together and when they fall over, you're helping them up.
You also get a live action research model of the therapeutic work you're doing. Say they've got anger issues, then they're likely to go off the rails at some point on the expedition. The therapist can actually see that happen and then work with them to find the best way of dealing with that anger. In a therapy room, that's all just theoretical. So really, it's a whole other level of working with people's challenges.
FGG: How has your model evolved over time?
Andy: In addition to our signature Recre8 adventure therapy expedition program, we have our Activ8 outreach program, which delivers mental health support through a combination of individual and small group therapeutic sessions.
Then we also have our Elev8 program, for the hundreds of kids who have come through our programs and want to stay connected. They may be doing well in life, but some challenges remain and they still need support, albeit in a less resource-intensive way.
The Elev8 program is also an opportunity for those young people to feed back to us. Within Elev8, we have a Youth Leadership Committee, which informs the work we do and the way we do it. We have a young person on the panel every time we interview new prospective staff members, which proves to be really valuable.
FGG: I wanted to ask you about that because, as you know, we used a Youth Advisory Panel to help us select our new social impact partners for Future Generation Global. How important is it to incorporate young people's voices in this space?
Andy: It's so important! Recruiting staff is a really good example of that. I've sat on panels with three adults and a young person. When we've got to the end of the interview, all the adults have said, "Oh wow, they were really impressive!" But the young person has said, "No, I would never trust them with my problems. I would never talk to them. I don't like the way they acted." That's something we really need to address and integrate into our decision making process.
The people who work for us really value the voices of the young people we are trying to help and they are happy to put those at the forefront of our decisions. Beyond that it's an excellent experience for our young people who are then being empowered to build their leadership capacity.
FGG: You alluded to this earlier, but how big a role is technology playing in the mental health crisis?
Andy: I think the trajectory was already very concerning, but what COVID and lockdowns did was cement that into the developmental trajectory of young people. Young people were forced to spend a lot of time indoors, their world shrinking to their screen, not going on family holidays or school camps or anything like that. Their comfort zone became so small that everything has become a stretch for them. They're so connected to their devices – the word addiction should absolutely be used – that it's really hard to get them doing the things that are good for mental health. But that's what we need to do in order to change the situation.
FGG: So what can governments, or schools, or the community do?
Andy: Good question! Schools are starting to work on this but, in my view, it's ridiculously slow.
That said, a lot of schools are having trouble just getting students back to school and it's tough for them. If you think of a Year 12 student living in our region in particular: in Year 7, there were catastrophic post-cyclone floods; in Year 8, there were catastrophic bushfires; in Year 9 and 10, there were COVID lockdowns; and in Year 11 they experienced the worst floods in Australia's history. That's been the spectrum of their adolescent years, which we know are massive years for the development of their brain. It's just been trauma after trauma.
We ran a program at one of the schools towards the end of last year for flood-affected young people. That was a particularly fortunate situation, because this school has a big nature reserve attached to the school and local indigenous people have set trails through it and created a yarning circle. That allowed the students to be on campus, but fully immersed in nature. It was great.
In terms of what governments can do, I think they should be putting more money into innovative interventions like Human Nature's, to prevent our young people ending up in crisis services or worse. What we do works and we're successful in getting kids through the door. Often those young people who do get through the door of a private psychologist, or services like Headspace, only attend one or two sessions, then don't come back. On the other hand, we have a 92% engagement rate, so young people are continuing on with us, and getting the outcomes they need to get their lives onto a positive trajectory.
FGG: You currently operate in northern New South Wales. Do you have plans to roll-out the program across the state or even nationally?
Andy: I'd say we have aspirations, rather than concrete plans at this point. This was a large part of our motivation for applying for the Future Generation Global funding. We do see the need for services like ours, across the state, across the country – particularly in regional areas, but also in urban areas. We're hoping to get to a place where we can have more capacity to fill the need in our region, which is massive, while also supporting the establishment of similar organisations in other regions.
FGG: In 2021, Human Nature appointed its first CEO, Sharyn White. What's her remit?
Andy: First and foremost, I'm a clinician. I somewhat reluctantly founded Human Nature because I saw this need and I saw that the larger not-for-profits, which were so reliant on government funding, couldn't be innovative in the ways that were required. I never had any interest in going through all the bureaucratic hurdles of establishing the organisation, but I forced myself into that role.
When we got to a certain size, it became apparent that we needed someone who had the skills and capacity to do that kind of organisational leadership. That's when we recruited Sharyn. She has all the skills and training to run an organisation, but also the commitment to listening to the team and listening to our young people.
FGG: I know the Future Generation Global funding is important to your organisation, but how important is it to be part of a collective of not-for-profits working to improve the mental health outcomes for young Australians?
Andy: For me, that's the most important thing. You can probably tell that I'm passionate about wholesale social change. We can tap away, trying to work with individuals as much as we like – and that's valuable for those individuals. But unless we start changing things more systemically, we're going to be facing the same problems in decades to come. So having that collaborative, collective approach and voice feels really important.
The way the Future Generation Global portfolio is set up means we can be collaborators, when normally we're forced to be competitors. That's really powerful because people don't have to guard their turf. They can get together, share their successes and help each other grow. That's the opportunity I'm most looking forward to.
You can find out more about Future Generation Global and our partnership with them here.