Arrawarra Surf Camp
Thanks to support from Future2 Foundation, the Department of Communities and Justice, James Frizelle Charitable Foundation and the Seaton Foundation, we were able to send a group of young people to Spot X Surf Camp, Arrawarra as part of our Elev8 program. With a broad focus on employment, education and wellbeing, the aim of the camp was to equip young people with essential skills and resources to best support their transition to independence.
Recreational and cultural activities were co-designed with the young people and included surfing, a yarning circle, meeting Traditional Owners on Country, art and craft, and swimming. These are the kinds of recreational activities that are of real interest to the participants but aren't usually accessible to them – they are a key factor in us being able to engage young people to participate in the camps.
These camps were a life-changing experience for many of the young people who took part. They were motivated to attend the camp to receive guidance in career direction and support, to meet new people, and to get away from home.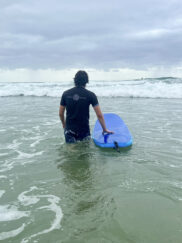 The surf camp experience was described as comforting, safe, and supportive, allowing participants to be their authentic selves while developing a better understanding of their career interests.
Through this project, young people were connected with professionals who are working in industries that aligned with their personal interests – including journalism, psychology, law, photography and teaching. Young people were given the unique opportunity to ask these professionals questions about their work experience and what they've learnt in their career path.
By improving access to the support networks, professional contacts, resources and knowledge that they otherwise wouldn't have access to, these young people are better supported in their education and employment pathways and able to go on to brighter futures. The camps provided a reminder of the care, love, and community that is there for them and reignited their motivation for achieving goals, responsibilities, and self-care/communication.
Below are some testimonials from young people who went on the camp: